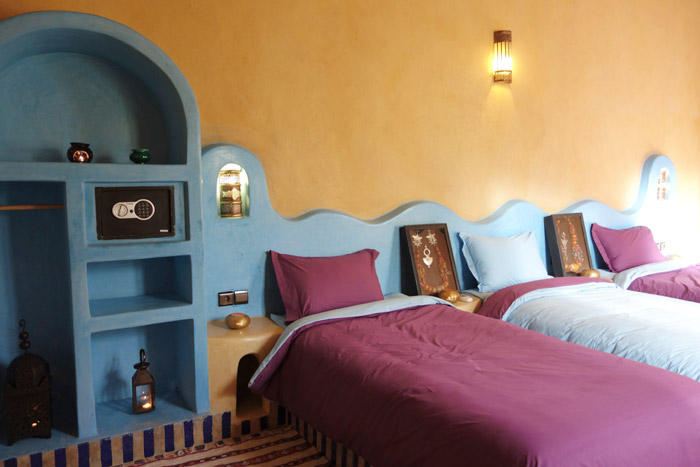 The accommodation facilities at Auberge Café du Sud is part of your whole experience in the desert in the south of Morocco. In our top quality rooms, you will be able to have your moments of pause from the activities in the Erg Chebbi Dunes. But, when you enter your space of privacy, you will still clearly know in which part of the world you are.
The decoration of the different options of rooms in Auberge Café du Sud is a fusion of the traditional aesthetic of the south of Morocco with the comfort you are used to. Each corner and each detail of our hotel in the desert are an extension of all the places you visit during the day and the colors that the magnificent light of the desert shows you. Imagine yourself a star in your own Arabian Nights movie. In the total security of the script written by you.
The bedrooms of Auberge Café du Sud, open to a common garden and are perfectly integrated into the whole complex of the hotel and its facilities, including the dining and recreation room, the hypnotizing pool a few meters away from the hot sands of the desert, the exterior space of an inviting view over the huge dunes. Consider this your home in the desert.
---
Types of accommodation
---
Berber Suites in the hotel
The Berber Suites in the Auberge Café du Sud represent your dream of stay in the desert, catching your breath in a room with a combination of pure Sahara style in the architecture and the luxurious decoration. The Berber Suites have a bathroom and air conditioning. Their own private terraces invite you to moments of tranquility.
---
Standard Rooms in the hotel (with and without terrace)
The Standard rooms of Auberge Café du Sud share the attention to details with the remaining options of accommodation in the hotel. The level of comfort is equally superior. The appeal to the senses of our guests continues to be felt as soon as they cross the door into their own piece of Morocco, which they recognize in the decoration in pure Sahara style. The Standard rooms have a bathroom and air conditioning and are available with or without a private terrace.
If you wish to book a room or a desert activity with Auberge Café du Sud, please use the booking page. For special groups / agency prices or general inquires please use the contact page. Our office will get back to you within 24 hours. Thank you.