Auberge Café du Sud is located in the Dunes of Erg Chebbi, in the southeast of Morocco, administrative region of Meknes-Tafilalet. The closest locality is the famous and traditional village of Merzouga. The location of the hotel, isolated in the dunes, makes it the perfect site to serve as a base of exploration of the Sahara Desert in Morocco
The most common way to get to Auberge Café du Sud is to follow the paved N13 road in the direction of Rissani-Merzouga. Traveling by Rentacar or in your car, 14 miles after Rissani you will find a traffic sign pointing to the hotel on the left side, with the dunes already on sight. From this point on you just need to cover the 5 miles of dirt road until you arrive at your destination by following the signs. Even though this is a dirt road, it is perfectly accessible in a small car. If you have a GPS in your vehicle, our coordinates are N 31º12,63, W 004º01,45.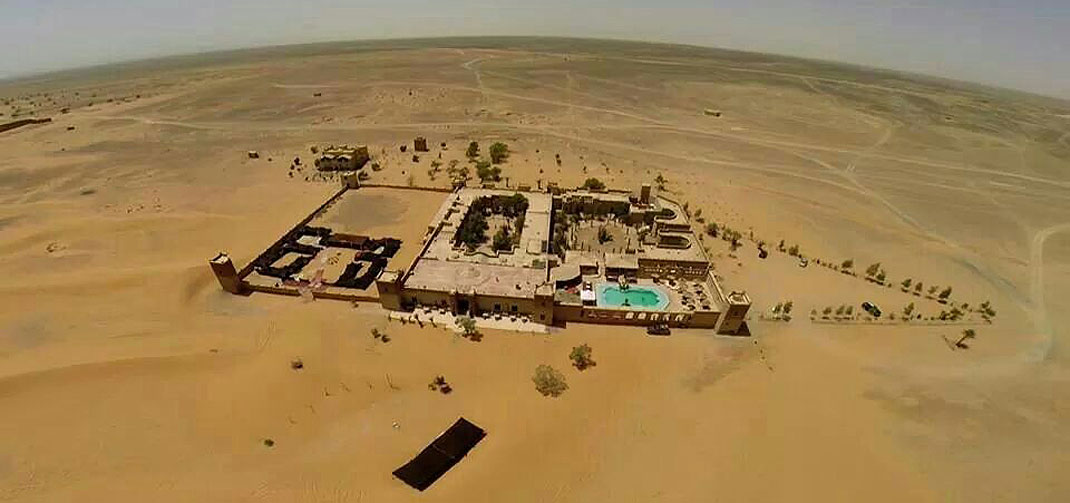 If you don't have your transport, all you need to do is get to Erfoud, Rissani or Merzouga on the bus that starts its trip to some of the main cities in Morocco. One of the most common routes is from Marrakech to Merzouga. The trip with Supratours company, for example, takes about 12 hours. Leaving Marrakech at 8.30 am, you will arrive in Merzouga at 9 pm. The buses are recent and don't stop whenever someone wants to get in, unlike the ones from other companies. The ticket costs about 200 Dirhams (20 Euros).
When you arrive by bus to Erfoud, Rissani or Merzouga, take a grand taxi to get you to the before-mentioned traffic sign on the N13 road and ask the staff from Auberge Café du Sud to get you. They will be there waiting for you, with welcoming smiles on their lips. Even more simple, ask for the transfer services to our hotel so that we can pick you up as soon as you arrive by bus.
---
Morocco Map – Auberge Café du Sud
---
In this map, you can understand where Auberge Café du Sud is located in Morocco.

Distances destinations in Morocco-Merzouga
Khemlyia – 4 miles
Taouz – 15 miles
Rissani – 21 miles
Erfoud – 34 miles
Errachidia – 84 miles
Ouarzazate – 286 miles
Fes – 314 miles
Marrakech – 416 miles
Casablanca – 470 miles
Tangier – 488 miles
Rabat – 526 miles
If you wish to book a room or a desert activity with Auberge Café du Sud, please use the booking page. For special groups / agency prices or general inquires please use the contact page. Our office will get back to you within 24 hours. Thank you.